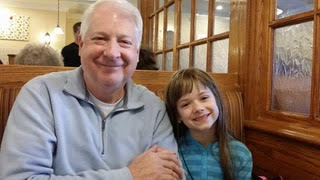 "Man, I wish my parents would engage more with their grandkids."
I know some of you are not in positions where you've thought this, maybe because of a toxic dynamic or because your parents already engage a lot, but I've talked to many parents who are wishing their parents would step up more often.
I've found that many grandparents struggle engaging in quality ways because they're just too passive. They may live their lives waiting for someone to tell them what to do.
They were told what to do at school.
They were told what to do at work.
They are told what to do at church.
They've been trained to wait until someone tells them exactly what to do.
So when they're not being told what to do they just go passive.
In these situations I've learned that people need a trigger. Something that says, "Here's a super concrete step you can take to engage."
Even for really proactive grandparents these triggers can be really helpful.
One tradition my dad has started is taking each of his grandkids out for their 10th birthday to share how he came to faith at the age of 10 and enjoy a fun lunch together.
I love this tradition!
Not only has it impacted each child individually, but it gives the siblings and cousins something they all share.
If you want to see your parents spend more time with their grandkids, maybe ask them if there are any traditions they'd like to start.
Maybe they'd want to teach each grandchild how to fish.
Maybe they'd want to take each grandchild on a certain trip.
Maybe they'd want to celebrate a certain birthday in a particular way.

They've probably not thought about this but, who knows, maybe just by asking, a tradition will get started that will last for generations.
Jeremy
PS. We just got a new shipment of The Family Plan Calendar! This is such a great tool for your weekly family meetings and for staying on the same page from day to day.
---
This entry is a part of Jeremy's Journal, a newsletter Jeremy sends out every Wednesday morning to encourage you on your parenting journey. You can sign up to get them every Wednesday here.